sinabi ko na dati na hindi ako maglalagay ng katag tagan dito sa blog ko pero dahil sa kagandahan ni ms kath e la na kong nagawa kundi issreenshot ang desktop ko at magisip ng wish list ko.. kahit etong may sakit ako at pagod ako sa byahe.. what a friend'
desktop: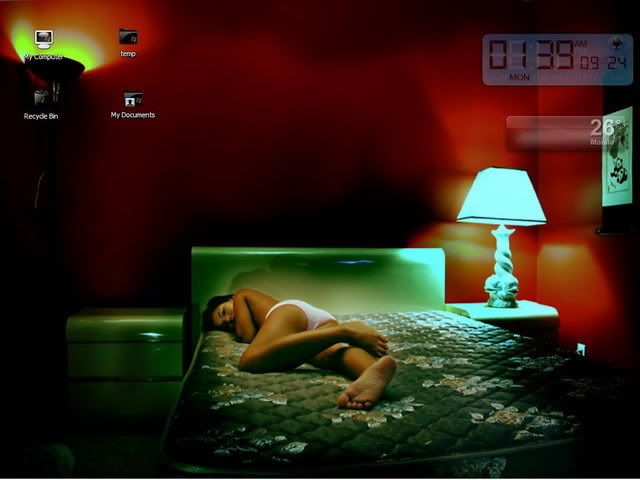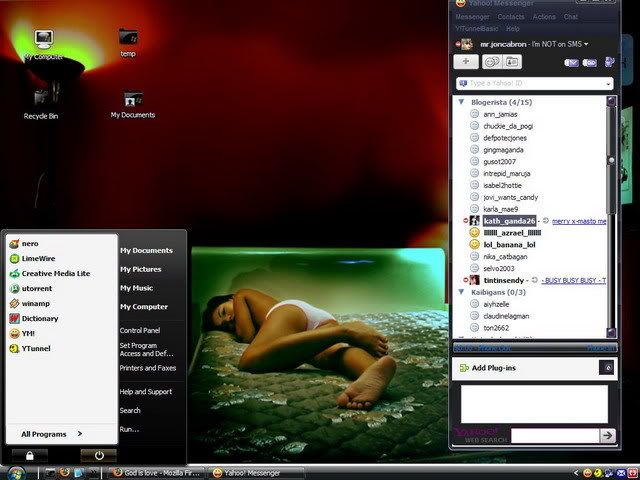 * dahil naniniwala ako na ang simple ay mahal ng diyos' ..lols
My Desktop Free View Instruction:
A. Upon receiving this tag, immediately perform a screen capture of your desktop. It is best that no icons be deleted before the screen capture so as to add to the element of
fun.
You can do a screen capture by: [1] Going to your desktop and pressing the Print Scrn key (located on the right side of the F12 key). [2] Open a graphics program (like Picture Manager, Paint, or Photoshop) and do a Paste (CTRL + V). [3] If you wish, you can "edit" the image, before saving it.
B. Post the picture in your blog. You can also give a short explanation on the look of your desktop just below it if you want. You can explain why you preferred such look or why is it full of icons. Things like that.
C. Tag five of your friends and ask them to give you a Free View of their desktop as well.
D. Add your name to this list of Free Viewers with a link pointing directly to your Desktop Free View post to promote it to succeeding participants.
note:
lam ko parang may mali sa ginawa ko.. basta kinopya ko lang yan kay kath.. kayo na bahala mag usap'
MY CHRISTMAS WISH LIST
.. wala akong christmas wish dahil hindi ako naniniwala kay santa at baka may magalit sakin at magsalita gamit ang boses na malaki ngunit malamig at ma echo at parang nanggagaling sa taas..
"hoy jon, anak' langyah ka halos mag iisang taon mo na kong ginagago sa blog mo may pa lista lista ka pa ng wish mo.. pakyu!"
.. tinatag ko lahat ng mga drayber at kunduktor ng saint rose transit na byaheng calamba – lawton salamat sa pagiging hindi ganid tulad ng pastrana bus, tina – tag ko din yung mga pakyung pahinante ng mga naglalakihang trak sa express way na walang pakundangang nakataas pa yung mga madudumi nilang paa sa dashboard at windshield ng trak habang pasipol sipol sa mga babae sa bintana ng bus.. at mga potaragis na mga traysikel drayber sa alabang na nambabastos ng mga babaeng dumadaan..
salamat!